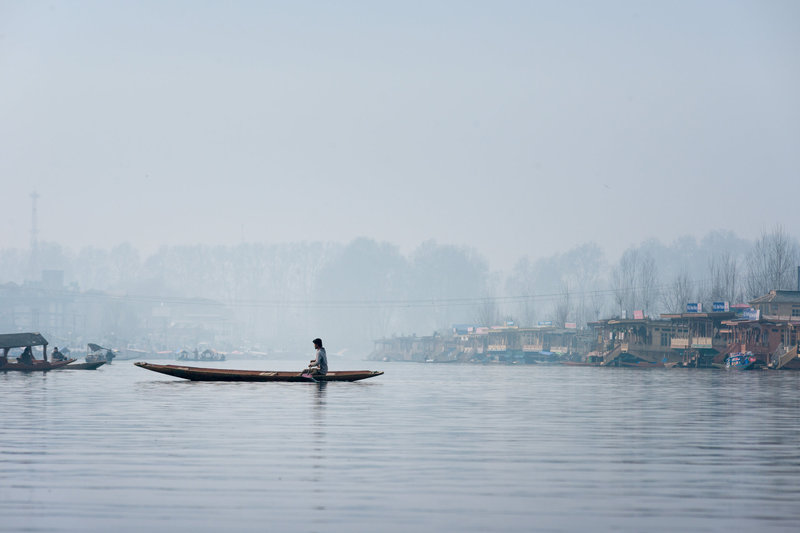 Dal Lake, Srinagar
A false sense of security
It is the ninth of January when the French police have surrounded a building in the northern town near Charles de Gaulle airport as part of a massive manhunt for the two men accused of carrying out the Charlie Hebdo massacre. Awaiting our flight in one of Amsterdam Airports busy terminals we start to question the three week journey that lies ahead and the risks involved. The state of Kashmir and Jammu has been a conflict zone for over 50 years, fought over by Indians and Pakistani, that started shortly after the independence of India. It has been the epicenter of three wars and it is not without a reason that former President of the
US
Bill Clinton declared it 'the most dangerous place in the world'. Whilst applying for a visitor visa the Dutch embassy informed us multiple times about the travel warnings that are issued for the state of Kashmir explicitly stating that foreigners are 'particularly visible, vulnerable, and at risk' of terrorist operations and advised against all travel. The message from the insurance company was also very clear: "Should anything happen, we will
NOT
help you."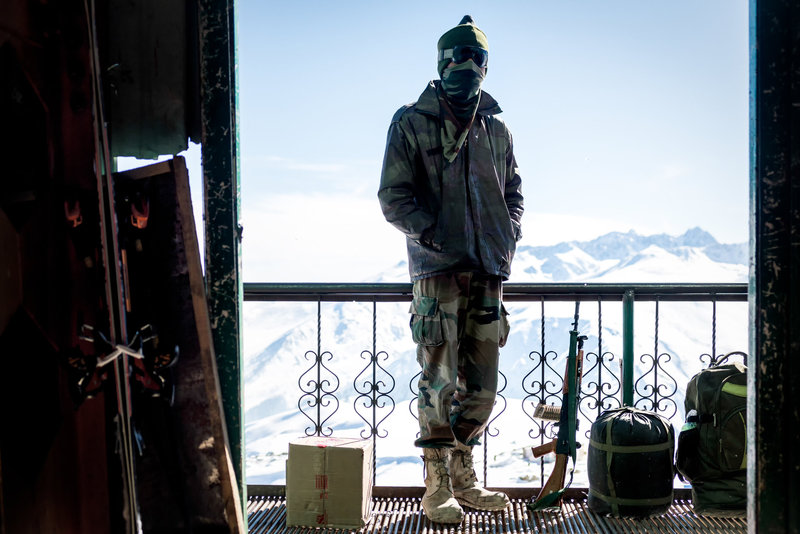 Skiing in a conflict zone
Gateway to the Himalaya's
It is 17 hours later when we arrive in Srinagar, the summer capital of Kashmir. Although the airplane view over the Kashmir valley is arguably one of the worlds best (it is easy to see where Led Zeppelin found inspiration for 'Kashmir'), it feels like we have been gradually giving up on luxury as our trip progresses. We land in a no man's land covered in dust and unfinished concrete buildings. Taxiing to the gate we catch a glimpse of what is coming and our premonition is confirmed; due to an increased risk of terrorist attacks by Pakistani cells prior to president Obama's visit to India, Srinagar airport is almost completely filled with fighter jets and other sorts of military vehicles. The main airport hall is filled with Indian military personnel who all seem to be keeping a very close eye on what we are doing. On the wall is a billboard that says 'Welcome to Kashmir, Paradise on Earth'. After reporting our presence to several local authority figures we are finally cleared to continue our journey to Gulmarg, India's gateway to the Himalaya's.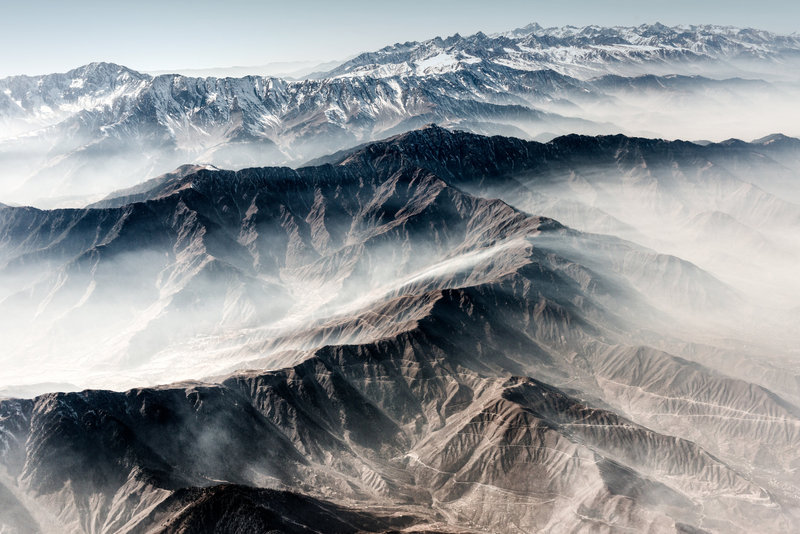 Flying over the Himalaya's
Gulmarg
Our jeep with skis and snowboards provisionally tied to the roof leaves the airport through multiple army checkpoints, swerving around barbed wire encrusted barricades and then heads out through the dusty and dirt-poor villages. The dirt, as a result of a two month dry spell, irritates our eyes. Alongside the road we see children playing cricket on the dry and neglected soil and numerous soldiers at the disputed 'Line of Control', which divides India from Pakistan. Eleven days later the road we were now driving on would be shortly closed because of the discovery of two improvised explosive devices of five kilograms each. This puts into perspective how real the threat of conflict is here.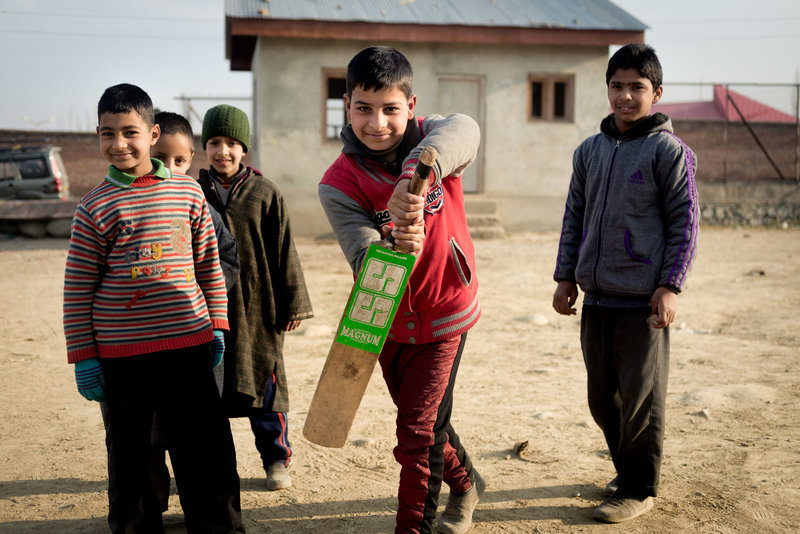 Local kids playing cricket alongside road
Not much later we start to elevate into high alpine area and soon we face the Himalaya's for the first time in our lives. The combination of the long and winding roads and a slightly tempered and impatient driver has taken its toll when we reach the ski town of Gulmarg located at the base of Mount Apharwat. As our stolen breath returns from the mountains, we come to a somewhat disheartening conclusion – there is no snow.
We are dropped off at our hotel located at the base of Gulmarg's only gondola. Like most of the handful of other hotels in the village the rooms provide for life's basic necessities, there is occasionally warm water, electric blankets, and an almost tangible interaction with rhesus monkeys as they clamber by the thin and single glass windows. That night in the hotel's empty dining room we discuss our options over a daring plate of chicken tikka masala and a can of 'Godfather' brew that was secretly smuggled into Gulmarg by our driver a few hours earlier.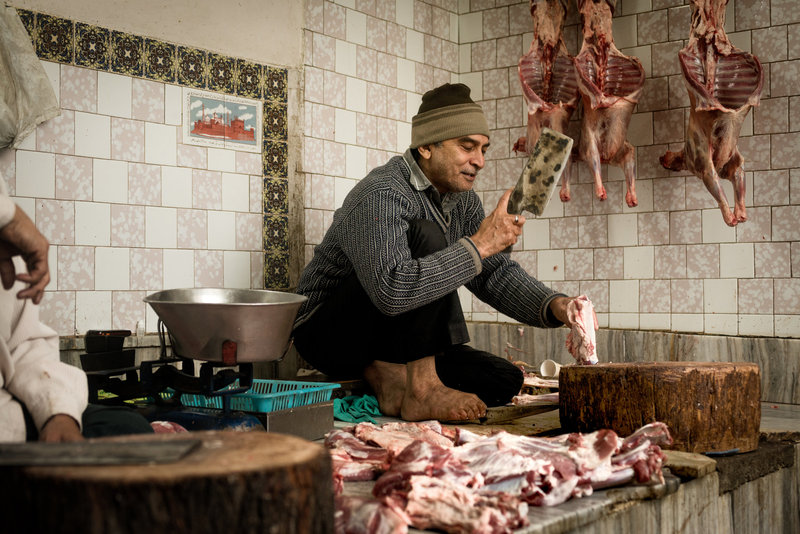 Hand and feet butchering
According to the online weather maps, no snow would be falling in the near future, but local sources show more positivity. "Snow will come. In sha'Allah (if Allah wills)." said Mushtaq, a local ski guide earlier that day. It seemed that with collective of locals praying for it, snow would surely arrive. We instilled faith that Allah would hear the collective prayers of the people. Consequently, our prayers were answered in a foreseeable future, in the form of Himalayan snowflakes, however only halfheartedly so, but just enough to keep hopes alive. It seems if he was just buying time to organize a storm of epic proportions which we now so eagerly await.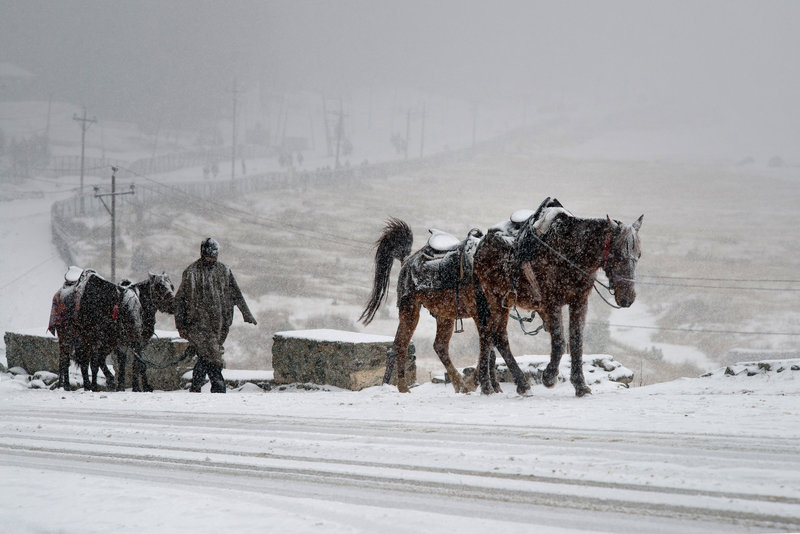 Transportation on Gulmarg Road
Mount Apharwat
Due to a combination of thin air, sleep deprivation and Godfather 'Super Strong – High Power' (which according to the can has a varying alcoholic content) we wake up with a terrible case of mountain sickness. Outside a street vendor offers us a cup of kahwah, a local tea, that is supposedly good for everything, and tries to sell us boiled eggs to go with it. We purchase a return ticket for the gondola and elevate to 3980 meters, skipping the Kongdori mid-station. Twenty minutes later we reach the 4200 meter summit of Mount Apharwat. Here, above the haze that hangs over the valley we look around to find ourselves indulged in Himalayan peaks, with Nanga Parbat, the world's ninth-highest mountain, dominating the view. The options to go down are equally impressive as the majority of terrain is ungroomed and Apharwats main ridgeline is filled with gullies and bowls, that on a good day, when filled with curry powder, will allow for long runs down through Himalayan pines to end up in the village of Tanmarg. From there there are numerous locals that will provide for a horseback lift back up in exchange for some rupees.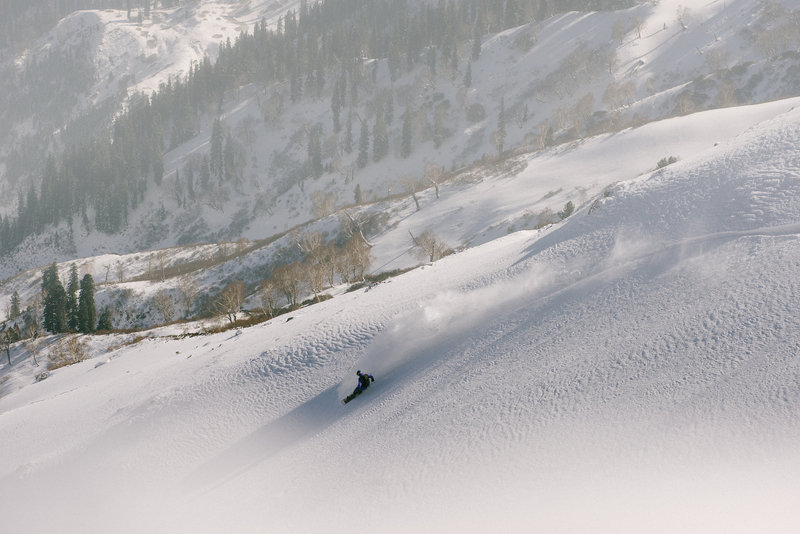 Backcountry snowboarding in Gulmarg
And so our trip continues. In some ways like a normal ski holiday. In other ways completely different. We eat chicken curry, not raclette, every night and cross patrolling soldiers and monkeys on our way to the gondola. At the time, the only foreigners around were a handful of kindred minded Australians and a few wealthy Indian families who, dressed in rented fur coats, came to witness the phenomenon of snow for the first time in their lives.
Kungdoor
To say we have been skunked for snow would be a fallacy; we did indeed cut fresh tracks, dodge trees and had a great time doing it. Unfortunately this was not sustainable as our poor skis and snowboards became very well acquainted with the cunning rocks that lay just below the surface. The storm of storms turned into a mere dusting, just over the length of a man's foot, and as the snowpack was as unstable and dangerous we did not get to enjoy the fruits of our labor.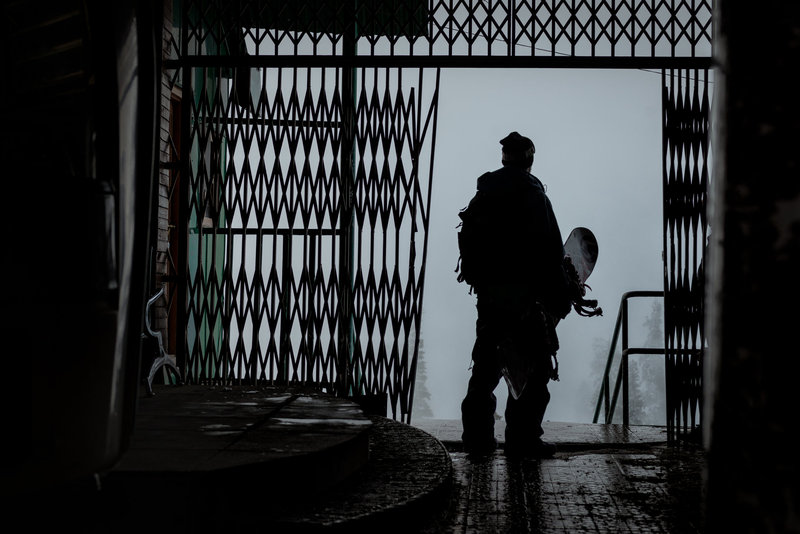 Enter Apparwath
We are leaving Kashmir with a slight unfulfilled feeling that is going to be redeemed in the future, on the slopes of Mount Apharwat. We hope that Gulmarg receives its much-needed curry snow soon. Not just for the sake of skiing, but also for the vast expanse of local Kashmiri people that are so reliant on the industry. For a population in such hard times their constant optimism and unwavering faith is remarkable. Considering the recent devastation of the Kashmir flood and the ongoing oppression of the Indian government, the ability for random shop owner to give you a warm and welcoming hand shake and invite you in for a traditional kahwah is testament to the strength of these people's character. – Kashmir, in sha'Allah.