Although we already got acquainted with sushi and the headaches that will typically come with the consumption of fermented Japanese rice brew a few days earlier, our journey begins in Amsterdam. It is early March and the three of us feel privileged, yet at the same time we cope with feelings the early explorers must have had travelling to distant places not knowing who and what to expect along their ways.
Our destination is the Hakuba Valley in the Northern Alps of the Nagano Prefecture on Japan's main island Honshu. Backpack manufacturer f-stop is hosting a photo competition and we have been selected as their European representatives. Japan is well-known for its unique snowfall. Prevailing winds from the originating from Siberia generate consistent mid-winter snowfall along the entire west coast of Hokkaido and most of Japan's main island Honshu. The Hakuba Valley is the westernmost part of the Nagano Prefecture on Honshu, and the small Hakuba Cortina area closest to the west coast has the snowiest reputation in the valley.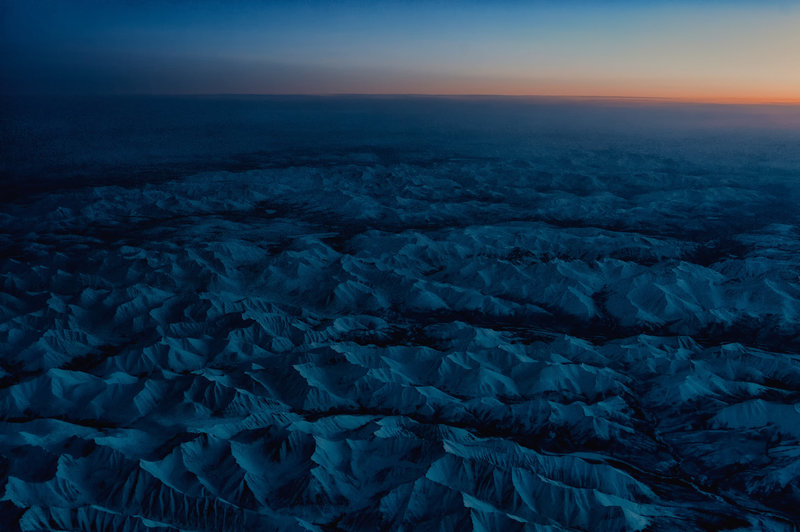 Flying over Russia
From Amsterdam it is a three hour flight to Moscow and another ten hours to the economic heart of the land of the rising sun, Tokyo. The combined travelling time was about 16 hours, and we had been up for the most of it. With some jet lag, but sheer excitement over the fact that we are currently living nine hours in the future we head out for a night in the city that, in daytime, resides over 20 million people.
While searching for the Narita Express train that will bring us to Tokyo Station, we are immediately confronted with the wild and crazy world of Japanese vending machines. Offering a unique variety of products, ranging from warm beverages to worn lingerie, these machines seem to be surrounding us everywhere, lighting up like casino slots when we are passing by. We decide to play it safe, only try out a variety of deliciously looking, but not so deliciously tasting candy, and decide to head into Tokyo before our bowels loosen up.
Tokyo Bubble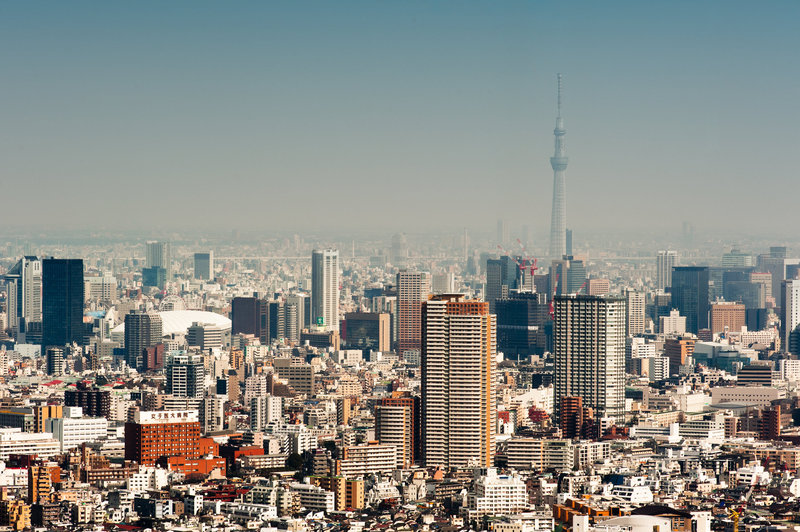 Tokyo
At the very latest in the Tokyo Subway you are stuck if you do not read Japanese. Expecting things to be written in proper English or even trying to apply any common western logic does not get you anywhere. It is here, however, where the unique and genuine politeness of the Japanese prevails. Maybe it's the queue for the ticket machine or maybe it's the desperation in our eyes that convinced a young Tokyoite to escort us halfway through the immense and densely crowded subway station to a nearby tourism office. Truly grateful for his help we try to offer him whatever we have in our pockets, but this only seems to upset the young Japanese man. A simple 'Arigato gozaimasu' goes a long way in Japan.
In the tourism office we meet the only Europeans we would meet in the following two weeks. They're a Scandinavian couple traveling through Asia, who are, like us, lost in translation. The people at the tourism office once again show typical Japanese hospitality; one immediately starts calling around for places for us to stay for the night, whilst the other is making reservations for our bus ride the next day and the other is providing us with maps, coupons and restaurant recommendations. We end up booking a capsule hotel in the Kyobashi district before indulging ourselves in the Tokyo nightlife. Although a proper recollection of the night is non-existent, flashes of karaoke bars, sensory overloading arcade halls, tempura and a gun-carrying white suited Japanese man in a peculiar nightclub, not necessarily in that order, come to mind. Tokyo's neon jungle is baffling beyond expectations.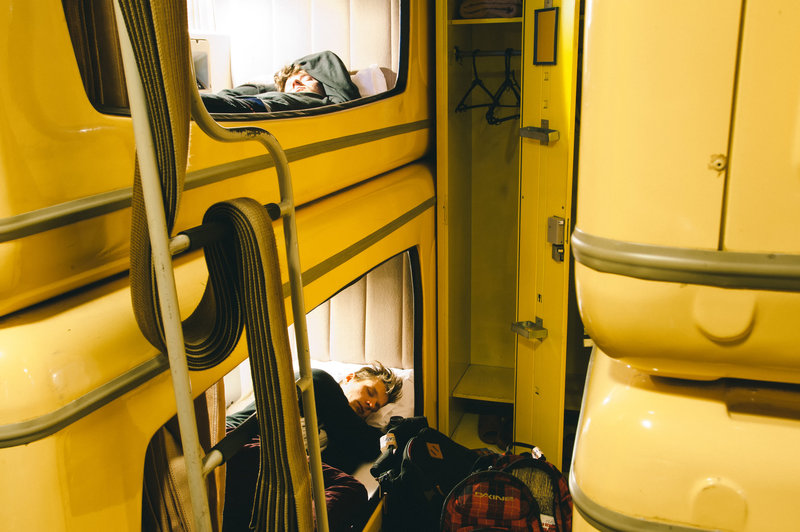 Capsule Hotel, Kyobashi district, Tokyo
Checkout times during Japanese working days are early. The next morning the chief of the capsule hotel is rudely awaking us. We pack our stuff and laugh when we hear the swearing of a young businessman next of us who must have had a similar night out and is now running late for work. We grab the Hakuba coach leaving from Shinjuku Station. It is here that the true monstrosity of the metropole shows. The ride out of the city over an endless stretch takes hours until it eventually transforms into a scenic mountain highway that leads into the Japanese Alps. A few hours later we watch the iconic blood red sun blissfully go downsetting in the valley. We are gaijin in this country, but feel strangely in place. The can in our hands that has 'Brewed for good times' printed boldly below its label only strengthens this feeling. Tomorrow we'll be riding Hakuba.
The Hakuba Connection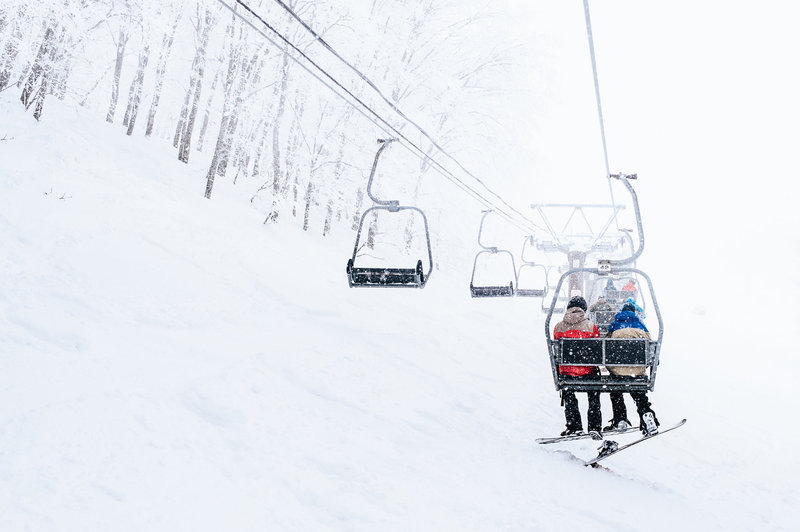 The Cortina chairlift, Hakuba
The Hakuba Valley receives over thirty feet of fresh snow every season and most of it falls in either January or February. It turns out March can be a good month too. Our arrival in Hakuba is preceded by multiple feet of fresh snowflakes. Our Japanese connection, Andrew Kelly, spins up the parking lot a few moments after we get out the bus. Andrew grew up in England but swapped from conventional Earl Grey to oriental Green, soon after he graduated studying Japanese History in Oxford. His knowledge of the culture, the language and the area easily makes him our most valuable asset of the trip. Andi-san has had a variety of jobs since he moved abroad, but the silent ambition of becoming a stunt driver is one that is still high on his list, we find out on the way to our nightly accommodation.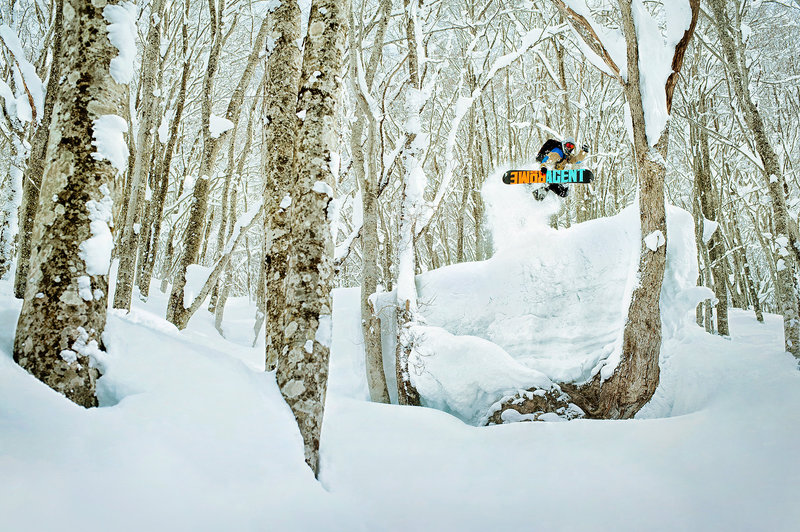 Method over a tree branch, Cortina
Although Buddhist history is apparent in the form of shrines and temples, the Western influx clearly left its mark on Hakuba. The entrance of the hotel 'La Neige', with an exception of the vending machines, fits right in with Louis
XIV
's Versailles ballroom. Morino Lodge, however, where we stay for the remainder of the trip, offers a more Asian experience, with futons to sleep on and a selection of local food and beverages. The village itself is a pleasant mixture of authentic Japanese izakaya and soba restaurants, traditional bars and Western coffee houses, that are mainly run by snow loving Kiwis and Aussies, who brought the gift of good coffee overseas.
The next morning, on the sound of the alarm clock, we quickly swap our yakuta tenues for Gore-Tex layering. Although it's still early, we queue up in line with the like minded Japanese crowd. We cut right at a sign that says 'Experts Onry' and enter the infamous Cortina sidecountry. Moments later we stop in front of a dam and breathe in the first oxygen we've had in minutes. We look back on our first run with fitting delight and an adrenaline fed buzz. Words don't seem to add anything to the moment. Shoulder-deep tree runs; the Japanese white room lives up to its reputation.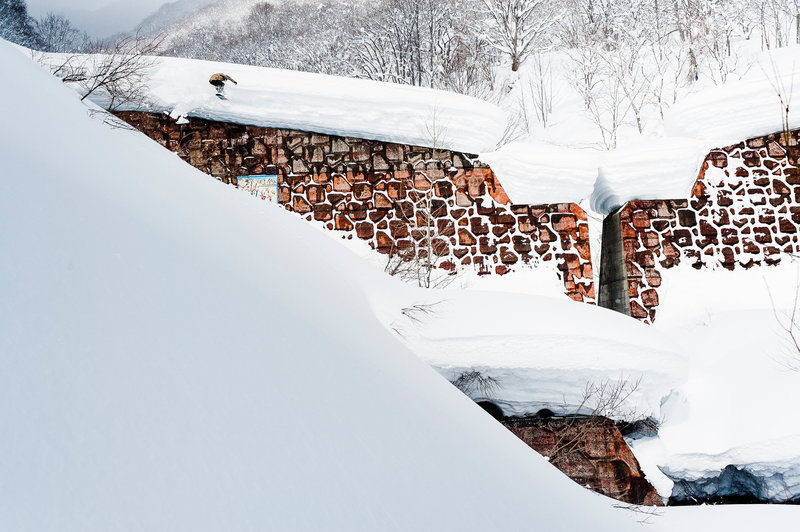 Launching off the Cortina Dam
Day three proofs less rewarding. Another snowstorm is on its way and all the resorts in the nearby proximity have been closed due to gale force winds. Hoping to outsmart Frūjin (the Japanese god of wind) we stack up in Ian's small cube-shaped Kei car and probe for features on the remote roads of the lower valley. The extreme weather has the window wipers working overtime, as we drive through several now deserted ghost towns that depict Japanese snowsport glory during the '80s ski boom decade. We spot a pillow line off the roof of an old school building, but numerous efforts later the snow packed climb up forces us to surrender. The combination of patience, persistence, and perspiration finally pays off when we successfully attack a curvaceous roadside ridge just before dawn sets in. That night, feeling somewhat defeated, and with our calves filled with lactate, we head back to one of many onsen (or traditional mineral-rich hot tubs), to heal our wounds in a way that allegedly rejuvenated the wounded samurai in the war against the Mongolian Army.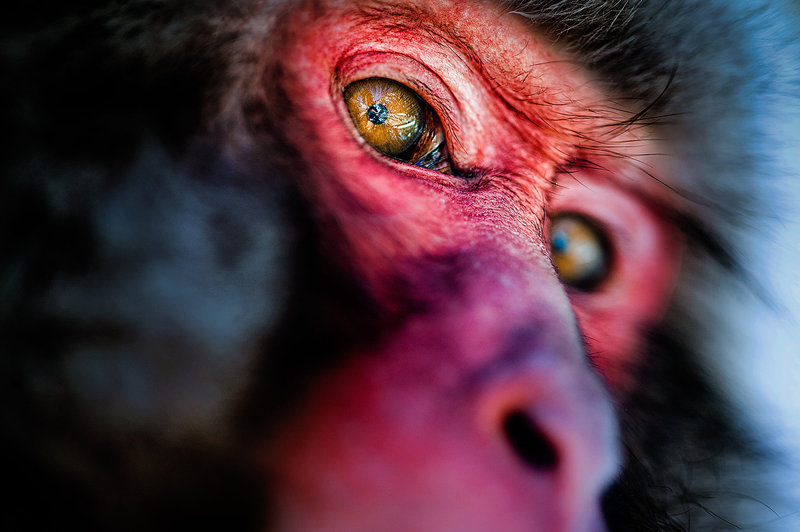 A friendly encouter with a Japanese Macaque, Nagano
Backed by David Bowie's 'Cat People', and with the amplifiers turned up to eleven, we end our slideshow the next day in a fully packed Cafe Cru and celebrate until the Eastern sun rises. We conclude that night, that despite the language barrier, and among many other things, the Japanese speak the international language of party, and snowboarding too. – We'll be back.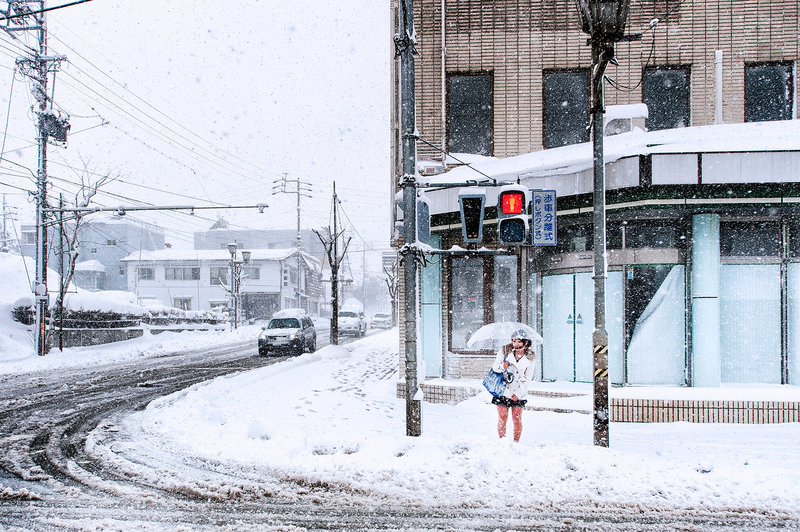 Schoolgirl in uniform, Hakuba
Closing notes
Dio Hornman (@diohornman) would like to thank Jorrit from Analog, for riding attire, Rome
SDS
for riding gear and Revert Snowboard shop for their support.
Peter-Paul de Meijer (@yourfriendpedro) would like to thank f-stop Gear's Andrew Kelly and Ian Millar for friendship, Kellan apparel and Superdik for warmth and comfort and the Morino Lodge for providing shelter.
Robin Toen (@robintoen) would like to thank Sander and Renie Toen for cancelling their vacation. He would also like to thank that one special girl in Tokyo. "Daisuki."